By Bobby Ramakant, The Seoul Times Columnist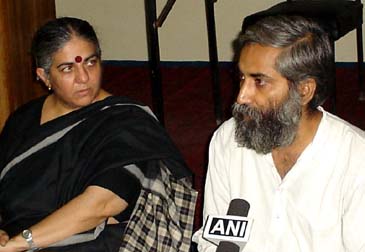 Director of RFSTE, Dr. Vandana Shiva and NAPM Leader Magsaysay Awardee 2002, Dr. Sandeep Pandey
Groundwater belongs to the people, and not to corporations, nor does it belong to the state. As the High Court of Kerala, India, ruled in the Plachimada case:
"Underground water belongs to the Public. The state and its instrumentalities should act as trustees of this great wealth. The state has got a duty to protect ground water against excessive exploitation and the inaction of the state in this regard will tantamount to infringement of the right to life of the people guaranteed under Article 21 of the constitution of India"
India's noted frontline environmentalist and human rights' activist who is also the recipient of coveted Right Livelihood Award – Dr Vandana Shiva said that "our struggle against Coke and Pepsi mining and polluting groundwater is thus, a defense of our constitutional right to life, since water is life." Dr Vandana Shiva is also the Convener of Jal Swaraj Abhiyan (Campaign to protect Water Rights of local communities), and Director of RFSTE (Research Foundation for Science, Technology and Ecology).
Dr Shiva was speaking on the concluding day of Jal Adhikar Yatra (March for Right to Water) which began from Varanasi on September 10, 2006 and after holding public meetings as it passed through different districts of UP and Rajasthan states of India, entered Delhi on October 3, 2006. There were more than 1500 people from economically weaker communities who have been adversely affected by water privatization in India. A massive demonstration was staged in New Delhi, and the demand was clear: Right to water. These people have been denied access to groundwater and their livelihood often dependent on water (agriculture) has been jeopardized because of lack of access to water.
Noted senior activist and Ramon Magsaysay Awardee 2002 for emergent Leadership, Dr Sandeep Pandey, who is also the national convener of NAPM (National Alliance of People's Movements) and leading human rights' activist of Narmada Bachao Andolan and NAPM leader Medha Patkar were also present in the march. Dr Sandeep Pandey said that this 'Jal Adhikar Yatra' was taken out to assert people's right over water resources and protect it from privatization by corporations like Coca Cola and Pepsico.
Medha Patkar said that "The biggest threat that the farmers of the region face is a fast depleting water table." According to a recent study (August 2006) the water table in wells in an area of 3 km from the plant site has fallen by 18 feet on an average since the plant began operating whereas the corresponding fall in water table during the last decade was only 1.6 ft. In addition the sludge coming out of the Mehdiganj Coca Cola plant and 15 other Coke and Pepsi plants around the country was found to contain dangerous levels of Cadmium, Chromium and Lead which are contaminating the agricultural fields and ground water. The local farmers have been demanding cancellation of license of this plant and winding up its operations. Twice when they arrived at the plant gate on 10th September, 2003 and 24th November, 2004, to demand closure of the plant they were beaten by the police and private security guards of Coca Cola, weilding iron rods, and put in jail. Thousands of people have protested outside the plant and hundreds have gone to jail.
Coca Cola has also been encroaching upon Gram Sabha (Village Council) land at Mehdiganj and last year a District Magistrate took action against the Gram Pradhan (Village Head, lowest elected representative in Indian democracy) for having illegally allowed Coca Cola to encroach this piece of land. However, no action has been taken against the company yet. At Sinhachawar, Ballia, also in U.P., last year Coca Cola at another plant site tried to put gates to encroach upon a Gram Sabha road. The vigilant villagers uprooted this gate and performed voluntary service on this road to reestablish the claim of Gram Sabha over it. When Coca Cola bought the plant at Mehdiganj from Thums Up in 1999 it cheated the government on stamp duty to the extent of Rs. 1 crore and 75 lakhs (US$ 400,000) and was fined a similar amount for this act by a local court. They still haven't paid the complete amount of Rs. 3.5 crores (US$ 800,000) which they owe to the government.
Coca Cola has been involved in killing of 9 workers of their plant in Coloumbia with the help of mercenaries. The issues of labour rights violations in Coloumbia and stealing of water belonging to Indian farmers have been dominating discussions in the Shareholders Meeting of the company for the last two successive years as well as on student campuses across North America. A number of Universities have decided to place a ban on Coca Cola because of these two issues.
Dr Sandeep Pandey warned that "The most serious issue is the intervention of a US government official threatening the fate of FDI in India, defending Coke and Pepsi when their image was tarnished by the Centre for Science and Environment's presence of pesticides report in the soft drinks manufactured by these companies. It appears that the US government has an upper hand than our own government in determining that Coke and Pepsi will stay in this country."
Dr Vandana Shiva said that "The pesticide problem in food can be solved by promoting organic farming and consumers eating organic food. The toxic problem of Coke and Pepsi can only be solved by a ban."
Not to forget, India has ratified International treaties and is expected to keep it's own promises made at a global level – promises to protect Water Rights of its citizens. Lest we may forget, United Nations' Human Rights statement on Right to Water (adapted on November 26, 2002) which all member countries including India are supposed to respect, protect and fulfil, reads that:
"The human right to water entitles everyone to sufficient, safe, acceptable, physically accessible and affordable water for personal and domestic uses. An adequate amount of safe water is necessary to prevent death from dehydration, reduce the risk of water-related disease and provide for consumption, cooking, personal and domestic hygienic requirements."
Access to safe water is a fundamental human need and therefore a basic human right. Our Governments need to do all what is possible to make sure that right of every individual to water is not infringed upon.
———————————————————————————————–
Bobby Ramakant, who serves as The Seoul Times columnist, is a member of NATT – Network for Accountability of Tobacco Transnationals – and Edits Weekly MONiTOR series reporting violations of tobacco control policies. He writes for newspapers in 11 countries and can be reached at [email protected])