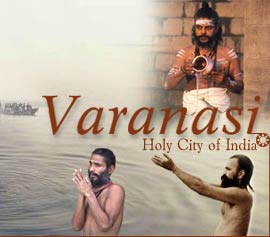 NEW DELHI, Aug 30 (By P.VIJIAN, Bernama) — When Lim Soon Seng of Johor arrived in India in search of spiritual solace and to master ancient Indian Vedic healing, he di not have the slightest inkling that he would spending almost two years of drudgery in Varanasi jail. Neither was he aware of the harsh punishment for violating Indian Immigration laws. A follower of the Krishna Conscious movement, Lim landed on the ghats of the Hindu holy city of Varanasi in August 2001 — which for decades has lured western tourists, hippies and spiritual seekers, like Lim.
And, for the next six years he diligently renewed his visa and wandered in orange robes with sadhus (holy men) and lived a life of solitude, learning the nuances of spiritualism and Vedic treatment. But, Lim's spiritual sojourn in Varanasi turned into an ugly nightmare when his passport expired in 2005 and he did not bother to renew, which eventually landed him in prison in December 2007 — on a charge for breaking local Immigration laws.
For the next twenty months, Lim, already in his 50s, languished in Varanasi Jail, one of the most crowded and dreaded Indian jails, where notorious criminals are held, while his family in Labis, Johor Baru, had the impression he was learning meditation in the Himalayas.
Lim, a former valuation surveyor by profession, was charged under Section 14 of the Foreigners Act, where offenders can face a jail sentence between six months and seven years.
Coincidently, a German diplomat, who visited the jail to meet a a citizen of Germany, came across Lim and notified the Malaysian embassy in Delhi about his predicament, which prompted Malaysian High Commissioner to India Datuk Tan Seng Sung to take immediate action.
Once the embassy assured the local district magistrate that he would repatriated to Malaysia safely, Lim was released. On Thursday (Aug 27) afternoon a scrawny Lim stepped out of the jail with hardly any money or clothing, and later, escorted by two embassy officers, he was flown to Delhi. Over a home cooked dinner, perhaps his first decent meal in many years, at the high commissioner's residence in Delhi, a distraught Lim related his ordeal in Varanasi to Bernama.
"It was my fault and a lesson for me, I didn't know this would happen. I came to India to learn Vedic treatment using herbs to help people. But I landed in jail, it was a bad experience.
"I lived with hardcore criminals, about 120 prisoners in the same cell. We slept on the floor with just a blanket and only ate dhal and chapatti. Sometimes I asked the prison doctor for milk.
"Several times during my trial, I pleaded with the magistrate to release me but he refused. He said this was a serious offence," Lim eloquently narrated in English, as tears trickled down from his sunken and fatigued eyes. Some of his last savings of Rs10,000 (RM740) that he had with him when he was arrested had been taken away by the police, said Lim.
Now lodged at a budget hotel in Delhi, Lim is yearning to return to Malaysia but it is not that easy, as the Indian government needs to issue him an Emergency Certificate to depart the country. Emotionally shattered, financially crippled and jobless, Lim will be returning home with unpleasant memories in Varanasi and also to an uncertain future.
–BERNAMA
VP VP HA