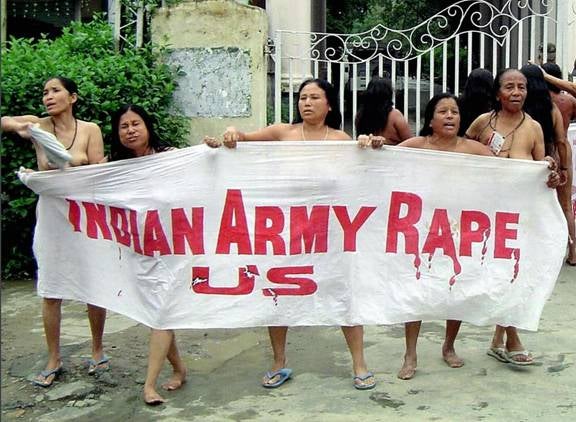 Imphal, September 5 (CNN-IBN): A retired judge's reports damning the security forces for fake encounters in Manipur have been ignored. Not one or two reports but 12. India was shocked when a dozen women went naked on the streets of Imphal in July 2004 to protest against the alleged rape and murder of Manorama Devi by soldiers of Assam Rifles. Justice (retd.) C Upendra Singh headed the enquiry that followed and his report found the security personnel guilty for Manorama's custodial death but no punitive action followed. He felt frustrated but was not shocked. Justice Singh, who served as a district and sessions court judge, has headed 12 investigations into fake encounters between 1996 and 2007. He found the security forces culpable in every incident but no action has ever been taken against those involved.
"I gave in all my findings that the security people were responsible for the killings. They do whatever they like. They don't care for the law; they do whatever they like," says Justice Singh. The Manipur Police insists they rarely stray from the rules. "There may be some acts of omission and commission here and there. The (police) force is large, but by and large we work within the law. It's not that free for all," says Y Joykumar Singh, Director General of Police, Manipur.
Manipur was enraged again when on July 23 Manipur Police commandos allegedly dragged Sanjit, a 22-year-old former militant, into a pharmacy in an Imphal market and shot him dead. Sanjit was accused of killing Rabina Devi, a pregnant woman, a few minutes earlier. The police claimed they recovered a 9-MM gun from Sanjit.
Human rights groups reject the allegations and claim it was the police commandos who killed both Sanjit and the woman. "How will he carry a weapon? Not possible at all. I wanted it proved," says Lt Col Rajendra Singh Rajkumar, an official of the Manipur Human Rights Commission. A month later the cycle of protests and enquiries is on. Six commandos have been suspended far the deaths of Sanjit and the woman.
Justice Singh is appalled at the slow pace of justice. "What do suspensions mean? (The guilty) must be arrested. They must be put in jail, they must face trial," he says. Singh's reports reiterate what many in Manipur suspect: encounters are often staged but rarely do the guilty get punished.